HERE JUST FOR SHARE SOMETHING THAT I FOUND!
LMH PLAYING SOCCER!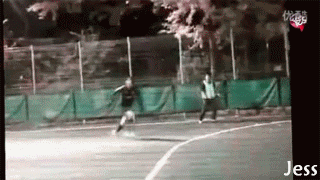 Hallyu star Lee Min Ho's soccer video became a hot topic after it was released.
Lee Min Ho's Chinese fans attended the fan meeting in China where they saw the video. The video was shown at the fan meeting in Shanghai on December 1st where fans gave a hot reaction once they saw Lee Min Ho's appearance.
Out of all, this video received the most attention. It was a video of Lee Min Ho playing soccer. Although it lasted for only 4 seconds, it was enough for him to leave a strong impression by showing off his soccer techniques.
While wearing a black uniform, Lee Min Ho ran as fast as a lightning bolt and successfully dodged for a heading shoot. He also added a ceremony performance. His skill was no different than a professional soccer player.
When Lee Min Ho was a child, his dream was to become a soccer player like Cha Bum Kun. He was an active player for 4 years when he was in elementary, and was even known to have received compliments on his skills from coach Cha Bum Kun. Although he had to quit because of a sudden injury, his skills never faded away. From the 2009 drama 'Boys Over Flowers,' he was able to show off his skills in the drama.
Some of the netizens who saw this video commented, "I had no idea he could play soccer this well," "Definitely a multi-entertainer," etc. which showed their interest.
On the other hand, Lee Min Ho is continuing his Asia fan meeting tour, and deciding on his next project.
Translated By: Solly @ Lee Min Ho's World
Original Source: enews24